Announcing Sing for Water Cardiff, 2017
It is with the utmost excitement that we are now able to announce the date for Sing For Water Cardiff 2017!!
In 2015, we raised a staggering £51,518 for WaterAid! This amount will have significantly improved the lives and health of thousands of people, by bringing clean water and sanitation to some of the World's poorest communities.
In 2017 it is our aim to do even better whilst once again showcasing Cardiff as the Capital of the "Land of Song", but also helping to make Sing For Water Cardiff a cultural milestone in Wales and the Natural Voice community. We will again be at Roald Dahl Plass, in Cardiff Bay.

More details, joining instructions, music and much more information will follow in the coming weeks. No need to contact us just yet – we are very busy making plans and organising the repertoire. We promise all the info will be forthcoming very soon. For now – please SAVE THE DATE (Sunday, June 18th, 2017) and please tell your choirs to do the same!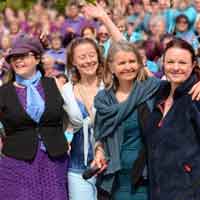 Love from
Sue, Celia, Pauline, Laura
(The Sing For Water Cardiff Team)