Sing for Water Cardiff
Choirs from all over Wales (and further afield) are busily rehearsing the songs for Sing For Water Cardiff 2017!
Roald Dahl Plass, Cardiff Bay
Main event 3pm
Performances from 12pm around the Bay
In 2015, we raised a staggering £51,518 for WaterAid! This has improved the lives and health of thousands of people, by bringing clean water and sanitation to some of the World's poorest communities.
This year we aim to do even better whilst once again showcasing Cardiff as the Capital of the "Land of Song", and helping to make Sing For Water Cardiff a cultural milestone in Wales and the Natural Voice community.
600+ Singers have just been learning 6 songs – including something Welsh, English, African and Native American. We would love to get a big audience there this year so please bring your friends and family!
We can't wait to see you there!
Sue, Celia, Pauline, Laura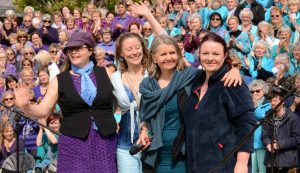 (The Sing For Water Cardiff Team)
<div style="text-align: center;"><a href="https://www.justgiving.com/fundraising/sing-for-water-cardiff"><img src="https://singforwatercardiff.org/wp-content/uploads/2017/04/donate-button-dark.png" alt="Donate with JustGiving" /></a></div>